East Africa Clean Expo 2023
Offline Event
Starts on

April 19, 12:00am
1h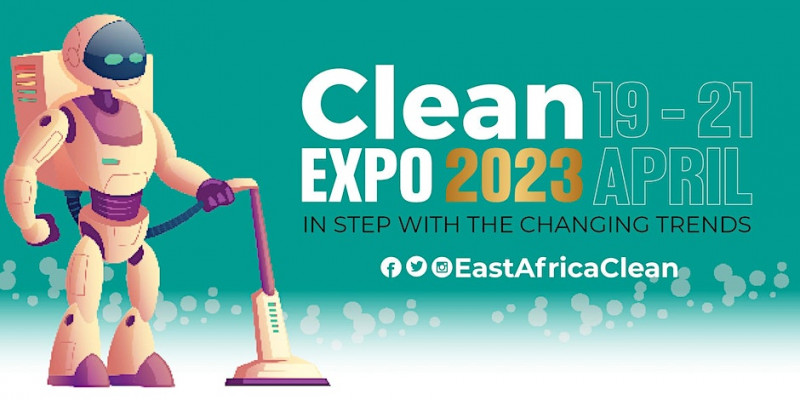 About This Event
Event Overview
The premier exhibition for the Cleaning Industry in East Africa, The expo creates avenues for enhancing the cleaning business. The Expo provides opportunities for international players to understand the East African market potential, explore business opportunities, and find the right business partners for manufacturing, marketing, distribution, and sales. New product launches and demos act as catalysts to the growth of the East African Cleaning Industry. Use this as the perfect platform to showcase your products and services to key decision-makers in the industry.
East Africa Clean Expo & Summit will bring timely and innovative discussions, in addition to excellent strategic networking opportunities with senior-level industry players from the complete value chain. Researched with the industry for the industry to make sure it attracts all of the people you could want to meet.
Exhibitor Profile
SANITARY & HYGIENIC EQUIPMENT, PRODUCTS
Hygienic paper, Disposable paper & wipes, Dosing systems, dispensers, soapsWarm air hand dryers, Toilet seat covers, Air freshener cabinets, air purificationWashroom binsWet wipes, Woven & non-woven wipesFood hygiene productsInsecticidesGarbage containers, urns, bins
CLEANING & MAINTENANCE
Indoor cleaning equipment: floor washers, squeegees, polishers, scrubber driers, sweepers, carpet cleaning machines, vacuum cleaners, steam generators, Street cleaning equipment, High-pressure cleaners, Cleaning chemicals, detergentsFloor pads, anti-slip meters, Mopping systems, tools, trolleys, accessories, spare parts, batteries & chargers, Workwear, individual protection means, Waste disposal, Cleaning contractors' services, Real estate objects cleaning and maintenance, Specialist cleaning equipment
DRY-CLEANING & WASHING
Processing machinery for dry-cleaners and laundriesIndustrial laundry equipment, Machinery and equipment for ironing and finishing, Machinery for garment dyeing and special finishes, Self-service laundries equipment, Carpet cleaning machines, Auxiliary Machinery, Chemical products, Equipment and materials for repair of leather and fur products, Software for automation of dry-cleaners & laundriesRepair, maintenance and service, Dry-cleaning and laundry services
TARGET AUDIENCE
Buyers representing a broad range of market segments including distributors and wholesalers of commercial cleaning products, Housekeeping departments, building service contractors, and end-customers from Healthcare, Contract cleaners, Hospitality & Leisure, Public Services, Government & Municipalities, Facilities Management providers, Restaurants, Education and Aviation and more....
1. Professional cleaning services
Cleaning contractors, County Governments, Municipalities, government officesDistributors, dealers, suppliers, retailers and wholesalersSport, business-centres, Banks, Insurance companies, Environment and energy practitionersWaste management and cleaning practitionersUrban planners and developers, manufacturers and distributors
2. Dry-cleaning, washing
Hotels laundry departmentsDry-cleaners, laundriesIndustrial laundries, laundry factories, Self-service laundriesLaundries at nuclear power plants, Public services centres
3. HoReCa
HotelsMini-hotels, guest housesSanatoriums, pensions, Resorts, holiday houses, Restaurants, CafesCanteens, catering companies
4. Facility Management
Private property managementAdjacent territoriesCommercial properties, Housing and communal services, Transport Terminals
5. Food industry
Food production plants, Meat and dairy factories, Beverage productionConfectioneries
6. Healthcare
Medical centresHospitalsHealth resortsClinical dispensariesTreatment institutionsClinics
7. Auto-service, Transport
Car wash, auto salonTechnical and repair centres, Airports, railway stations, sea and river ports, Public transport, auto parksFlight and train terminals
8. Industry
Industrial premisesWarehousesConstruction companies, Educational Facilities
Welcome. Personal interaction is power! It's something you just can't find anywhere else.
Event Details
Organised by
Peris Gachago
Date and Time
Wed, Apr 19, 2023 12:00 AM
TBA Westlands Nairobi, Nairobi 00621
Offline